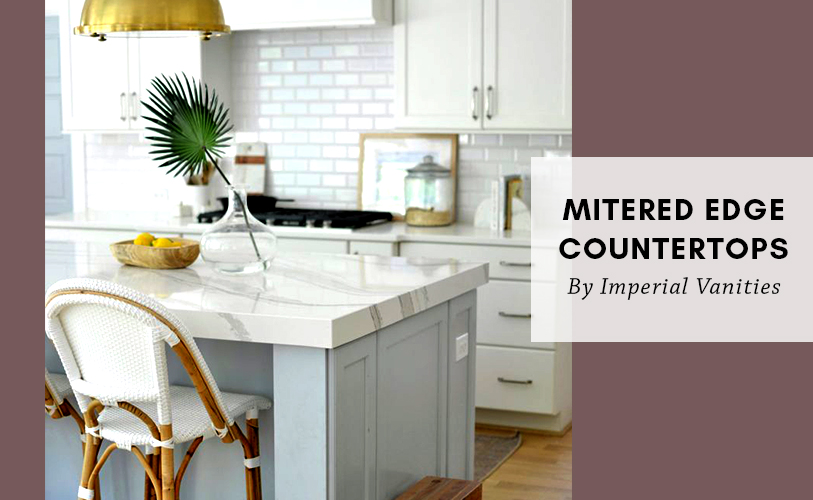 All You Need To Know About Mitered Edge Countertops by Imperial Vanities
Looking to give your kitchen or bathroom a fresh look without having to renovate the place completely? Try installing the mitered edge countertops – which is a new countertop from Imperial Vanities. Created by designers who have made some of the world's most iconic and contemporary homes, the countertop comes with a mitered edge and can be combined with different sink styles and faucet finishes to create stunning results – all of which keep the style sleek and minimal.
What Are Mitered Edge Countertops?
Countertops, tables, and bars can look more luxurious the moment you make the edges become the focal point of the design. This is where mitered edges come into play. It's not your standard counters that you see in commercial kitchens or bars with its 90-degree angles because this particular style is made of two thick slabs of stone that are cut at a 45-degree angle and designed to make it seem like the veining flows directly onto the next section, making it appear as though it's one solid slab of stone (or marble for example). There will be no visible seams or joints.
Why you should consider these countertops for your kitchen or bathroom renovation?
Kitchen and bathroom countertops are an important design detail in any kitchen or bathroom. They're the focal point of these rooms and are of many different types of countertop materials to choose from, including quartz, solid surface, natural stone, glass, wood, marble, granite, and concrete. All of these are beautiful choices for your new countertops. There's no shortage of options when it comes to countertops. However, there is one material that stands out from all the rest – mitered edge countertops, if your goal is durability and seamless style, consider these countertops that offer many benefits over the more common laminate counters.
In this blog learn more about why you should consider mitered edge countertops for your kitchen or bathroom renovation!
Give A Seamless Style To Your Interior
Mitered edge countertops are a popular look for both kitchens and bathrooms. This style of countertop will add a touch of elegance and sophistication to any home. It's also more durable than the traditional square-edge countertop. The corners are cut at 45 degrees, which creates a seamless look that is perfect for both modern and traditional styles.
Besides being more durable than traditional countertops, the mitered edge countertop is also easier to clean. The seamless corners eliminate the possibility of mold or other buildups that you might find on corners where water can collect.
White color is a perfect choice for seamless and flawless kitchen and bathroom countertops. Explore our impresso series quartz countertops with elegant patterns that will create a seamless design if installed as mitered edge countertops.
Mitered Edge Countertops In Combination With Kitchen Cabinets and Vanities
Miter edge countertops are on the rise. These new designs add a bit of intrigue and luxury to your home. They're more durable, aesthetically pleasing, and more economical than other types of countertops. Miter edge countertops can be paired with different styles of cabinets and vanities for different looks and purposes.
With their clean lines and elevated elegance, they can be a gorgeous addition to any kitchen. Mitered edge countertops with cabinets and bathroom vanities help to create an open, airy space. This space gives a feeling of light and spaciousness. If you're going for a minimalist feel, create some soft tones to make the space look bigger by using gray-colored countertops with wooden cabinets and vanities.
You might choose them for their durability or to match a certain look in your kitchen or bathroom. The installation process of these mitered countertops is typically more straightforward. Than installing a square-edge countertop because there are no complicated angles to worry about. They require less material, so it's also less expensive than other styles of countertops.
Get Your Customized Countertops From Imperial Vanities-Supplier Of Kitchen Countertops and Vanitytops
Today's trends for kitchen and bathroom design are taking on modern looks. Searching for that perfect measure of functionality matched with style? Contact the Imperial vanities, now to get the custom fabricated quartz surfaces in multiple edge styles. Including the mitered edge profile, and achieve a look that gives a unique flair to your decor. 
To Explore the wide range of edge profiles, check out our complete blog-popular edge styles
Call us today and we'll help you find the best miter edge countertop for your space!