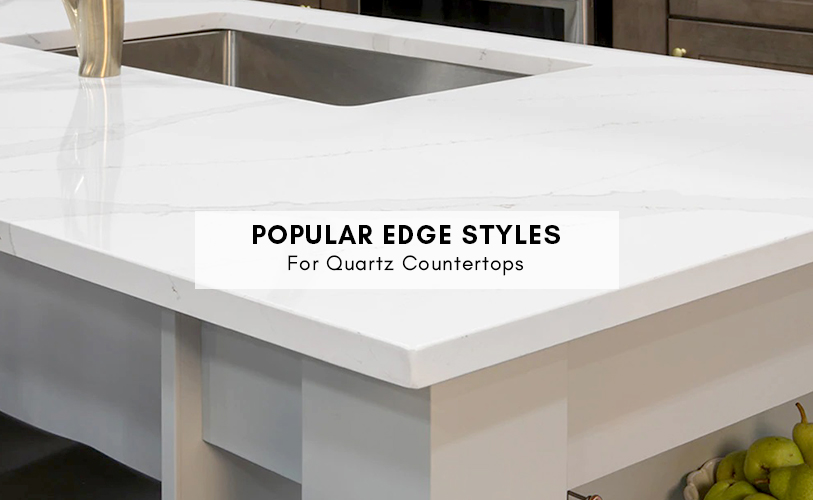 Popular Edge Styles For Quartz Countertops at Imperial Vanities
Quartz countertops have gained popularity over the past couple of years due to their durability, appearance, and functionality. When it comes to choosing them, we often overlook one aspect. That is choosing the quartz countertop edge. Although colors, patterns, and design have a huge impact on the efficiency of the tops, the edge profiles influence everything from functionality and safety to aesthetics. 
Below is much-needed information on edges.
Significance Of Quartz Countertop
There are different types of quartz countertop edge styles to choose from. However, you must pick the one that best defines your space. It is good to note that edge profiles will determine the size of the countertop that you will install. Therefore, you need to install an edge that will not limit the measurements of the quartz countertop. 
In addition, quartz countertop edges play a significant role when it comes to safety. There are some which are unsafe especially when around children. In this case, a rounded edge will be the best fit since it will minimize injuries.
Finally, each edge countertop adds its feel to each space, for instance, if you want something elegant then go for waterfall edges. If you want a subtle look to choose an eased edge.
Some Of The Most Popular Quartz Countertop
There are so many quartz countertop edges to choose from so here is a look at some of the popular ones in 2021.
1. Eased edge
This type of edge has a rounded square edge. It is not only aesthetically appealing but it is safe especially if you have children around. It is one of the most popular edges preferred by homeowners. Some of these quartz countertop edge's pros and cons are:
Affordable
Durable
Inconspicuous thus will not draw too much attention.
Suits any design style.
When it comes to cons, and eased quartz countertop edge cannot fit in a dramatic decor because it is subtle.
The neutral grey of Monte Bianco quartz fits perfectly with the eased edge. The color of the stone and the edge can fit any design style.
2. Half bullnose
This type of edge has a gentle soft slope. It has very similar qualities to round-shaped edges. Some of these quartz countertops edge's pros and cons include:
Easy to clean
Low maintenance
Subtle design
As a con, the soft appearance doesn't make the top stand out from other elements.
Coarse Botticino quartz countertop can suit this type of quartz countertop edge. The beige background of the stone will not war with the decor of your space. It is easy to maintain making it chef-friendly.
3. Full bullnose
This type of quartz countertop edge is almost similar to the eased edge. However, it sports rounded edges on the top and the bottom. The pros of using this kind of edge include;
It is safer especially if you have young kids. They are less prone to injuries.
It flatters all design styles.
It is easy to maintain and clean.
Imperial Carrara quartz is a stone that mimics the beauty of granite. The neutral white background with brown and grey specks mingle marvelously with any decor. You can install it with any quartz countertop edge including the full bullnose – meaning you and your family are safe. 
4. Laminated edge
A laminated edge involves the process of adding a second edge on the existing quartz countertop edge. Although it is a complex process, it has its advantages:
Adds a modern touch to the countertop and design of the space.
Easily customizable.
Offers a variety of choices thus you can add whatever style you prefer.
Pelican white quartz has that modern look with its crisp clean white background and grey patterns. A laminated edge will elevate the modernity of your quartz countertop.
5. Mitered edge
A mitered edge creates a seamless edge between the top of the countertop and its adjacent piece of stone. It is similar to a waterfall edge. Two pieces of quartz are cut at exactly a 45-degree angle and fastened together. This one too has pros and cons as follows:

Gives an opportunity to create an illusion of a thick countertop
Best pick for contemporary interior design
Makes a unique statement
As far as cons are concerned, mitered quartz countertop edges are a bit more expensive than standard counterparts. And this isn't the right choice if you are looking for a thin countertop.
Imperial Vanities – Offers Bespoke Quartz Countertop Edges Styles
Apart from offering bespoke quartz countertop designs, Imperial Vanities also provides profile edge service according to your requirement. 
We offer service for all the quartz countertop edge styles explained above. Our team of skilled craftsmen has long-established experience in designing edge profiles – from simple to intricate. 
So, tell us the quartz countertop you would love to install, we will give you a list of the best edges to match your pick.
Connect with us now!