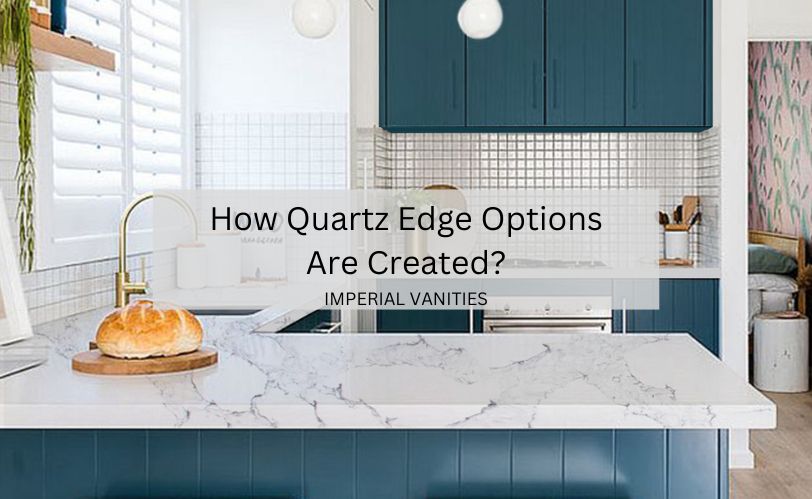 How Quartz Edge Options Are Created?
When it comes to color and style, quartz countertops will give you a wide range of possibilities. For your new countertop, you have access to a wide range of Quartz edge options in addition to a variety of colors and styles. Along with other useful information on Quartz edge styles, this blog will take you through your countertop edge alternatives.
You must choose a curve equation for your countertops after choosing the ideal material for your granite countertops. Quartz countertop edges are cut and polished using this design. Select the edge that best complements the design of your kitchen cabinets and your home's interior décor as a whole. Your profile edge is produced by a unique production procedure.
Natural stone countertops can have a number of conventional edge profiles, premium edges, and laminated edge profiles. Earlier in this detailed blog, we have described the bullnose edge, beveled edge, round edge, Dupont edge, and ogee edge, and some of the most used and beautiful alternatives. Having said this, let's now move on to see how these amazingly finished edges are created.
The Process of Fabricating Quartz Profile Options –
The Quartz manufacturer slices and polishes the slab. Then, they use diamond-cutting routers to shape the slab's edge into the desired form. In the past, processes took significantly longer to complete because the tools were operated by hand. Modern technology has made it possible to complete these processes more quickly. By hand, the more intricate edge profile designs might take weeks to create, which would lengthen the fabrication process and raise the cost.
Today's computer-aided design software streamlines the process. A device with cutters and water jets shapes the countertop edge after precisely measuring and slicing the slab. Specialized router bits create different edge profiles. Edge polishing equipment polishes the countertop to create the final profile. The stone fabricator scrutinises the stone to make sure that all of the edges are uniform when the operation is complete.
What Quartz Edge Options Do You Have for Quartz Countertops?
You have a variety of choices when it comes to Quartz edge options, as already discussed. The edge styles available for your modern quartz countertop are further explained in this section.
Edges – Standard vs. Premium
Not every edge belongs to the same type. Countertop edge patterns are often categorized as "standard" or "premium" depending on the amount of detail they contain. As you may anticipate, premium edges will cost more than basic edges.
Best Options for Standard Edges –
Quartz countertops and other stone surfaces often have standard edges. When choosing a conventional Quartz edge countertop, some of the edge profiles listed below can be your best choice.
Straight Edges
Half-bevel Edge
Quarter-round Edge
Best options for Premium Countertop Edges-
Just as there are many options for a standard edge provided to your countertop, similarly, we have many options for premium countertop edges as well. Some of those are –
Treeline Edge
Volcanic Edge
Morraine Edge
Ogee Edge
Dupont Edge
The list of these edges is unending. But rather than going into the detail of these edge types, we shall rather focus on the factors responsible for deciding the best Quartz edge options. However, if you contact the best manufacturer of Quartz countertops, like Imperial Vanities, we might be able to help you straight away and you do not have to worry about these factors. Some of these factors are –
1. The Material on Which the Corner Is Being Finished
Consider the materials that the edge is being finished on. The best fabrication business can advise you on the best edges for the material you have selected. Avoid complicated edges on more exotic or soft stones. Working with experts who know the best edges for each surface is crucial.
2. The style and theme you'd like for your room
Many people adore the traditional yet elegant look of ogee edges on marble countertops used in kitchens. Rounded edges create a traditional look that can go with any bathroom or kitchen décor. Eased edges feature simple designs that are often found in more contemporary settings. Examine specimens of various edges from your Quartz supplier to see if they complement the finished appearance you want for your kitchen or bathroom.
Conclusion
We at Imperial Vanities are happy to provide you with Quartz edge options without charging more. Each edge has a distinct design that can assist distinguish your countertop and improve its overall appeal. We urge you to stop by our place if you want to install new Quartz Kitchen countertops in your home. We will be happy to assist you in making your material choices and getting a sense of the various edges we would have to offer. Connect us today to get the best quote.